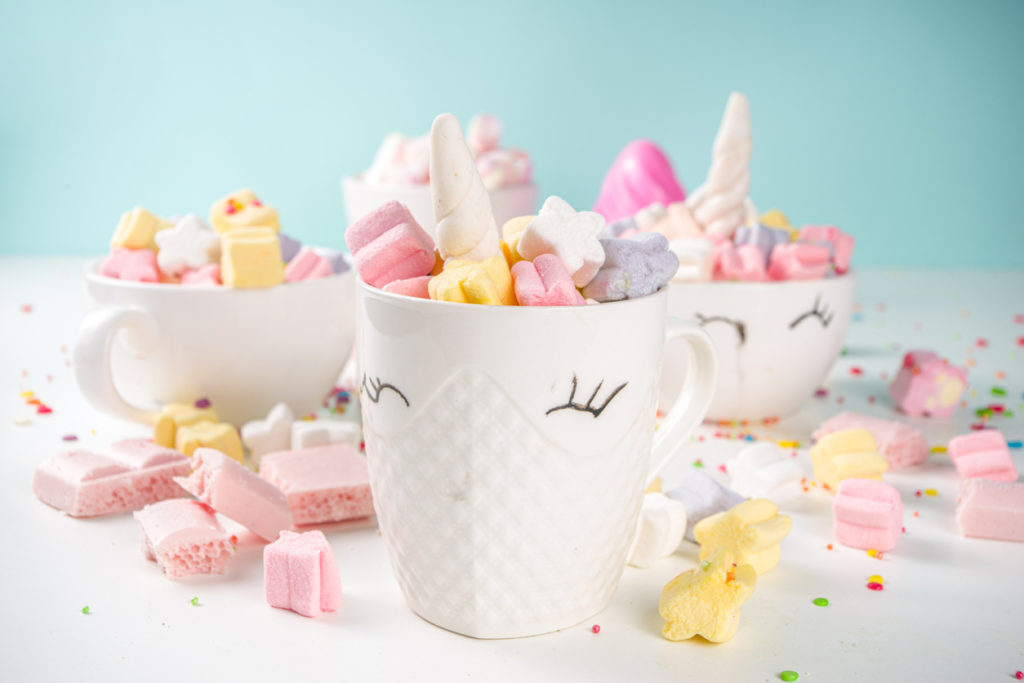 You might have seen pictures of a colorful cup of hot chocolate floating around social media, with marshmallows, sprinkles, and a dazzling pink blush, often with the name "Unicorn Hot Chocolate. This appetizing concoction tastes as delightful as it looks, and what started as a secret menu item at a trendy Los Angeles cafe has become a cold-weather favorite. You don't have to set foot in a coffee shop to enjoy this vibrant treat, so gather your ingredients and make a cup of Unicorn Hot Chocolate within your own kitchen.
Unicorn Hot Chocolate
To let the pink color pop, you'll need to use white chocolate mix for this recipe. White chocolate syrup brings additional sugariness, while you can swap it out for vanilla syrup for a more dynamic taste. The secret to the drink's unique thickness is in the dry milk powder, and the added ingredient can temper the sweetness of the other components. The wonderful pink hue comes from just a few drops of food coloring, although you can certainly add a red syrup like cherry or strawberry if you want some extra flavor to accompany the cute coloration. Top it all with some whipped cream, and don't forget about sprinkles and marshmallows to complete the effect for a picture-perfect recreation of the original.
Other Sweet Secrets
Coffee shops across the U.S. have capitalized on the trend of secret, off-menu items, and there are some other clandestine coffee treats that belong in your own winter rotation. The Thin Mint Frappuccino is as refreshing as it is easy to make, and it blends chocolate syrup, a handful of thin mints, and your favorite coffee. If you prefer something warm, consider the Fall In A Cup, which builds on the classic Pumpkin Spice Latte. Equally delightful as a hot or cold drink, this recipe call for chai and caramel syrups.
You might also like: A Pancake Recipe Everyone Can Enjoy
Walt Massey Chrysler Dodge Jeep RAM
If you're interested in a new ride to sweeten up this winter, come see us at Walt Massey Chrysler Dodge Jeep RAM!