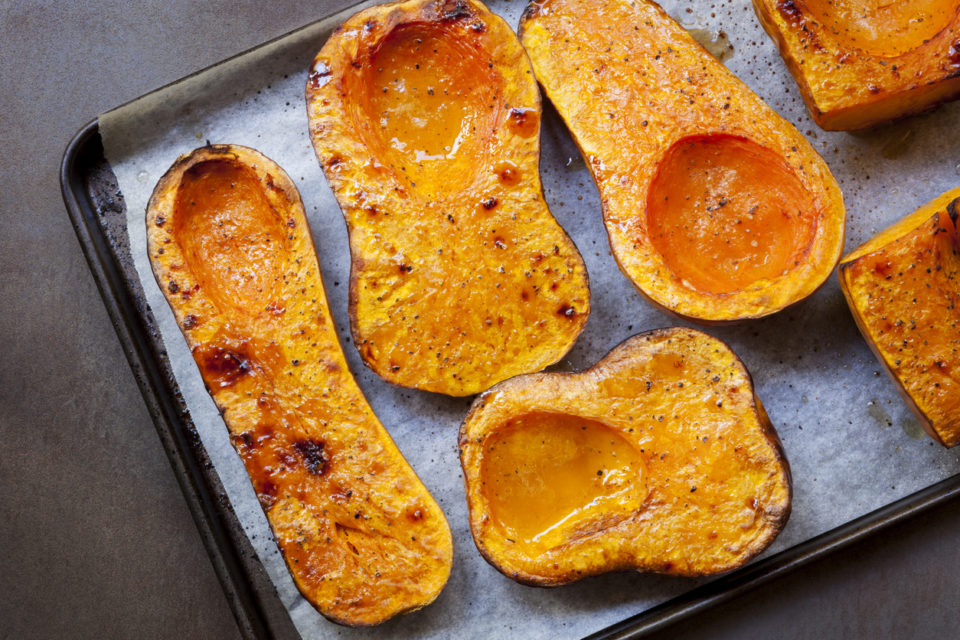 Meatless Monday is a global movement with a very simple mission: to encourage people to swap out eating meat for eating veggies once a week. Try this Vegducken recipe provided by the experts at Epicurious. It's the perfect vegetarian complement to a traditional Thanksgiving meal. 
Have you heard of the Turducken? A chicken stuffed into a duck which is then stuffed into a turkey. If you can imagine a vegetable version that substitutes butternut squash, eggplant, and zucchini filling for the meats listed above, you get a Vegducken. It's fantastic! Give it a try. You won't be disappointed.  
Preparation
To begin, you'll need 1 cup of pecans, the largest butternut squash you can find, a 9-inch-long zucchini, and a globe eggplant. While shopping for your vegetables, keep in mind that the key to making this recipe work is fitting all the vegetables inside of the other. Preheat your oven to 350 while you're prepping your veggies and then begin hollowing out the insides of your zucchini, squash, and eggplant using a heavy-duty metal ice cream scoop. You will be left with a bowl of vegetable insides which will become the base for your stuffing. 
The Stuffing Dreams Are Made Of
In this step, you'll be preparing and cooking the stuffing for your Vegducken. You have plenty of room to be creative here, but start by adding shiitake mushrooms, shallots, and garlic to your vegetable mix and then blending all in a food processor. Once you've blended the mixture, prepare a saucepan or skillet for cooking by adding a tablespoon of olive oil. Heat, and then add your stuffing mixture, parmesan, bread crumbs, parsley, and egg. Stir until well mixed and then heat on low. 
Cooking the Veggies
Next, take a fork and pierce the interior of the squash and score the eggplant. Brush a generous amount of maple syrup on the inside of the butternut squash. Sprinkle a little salt and begin adding your blended vegetable stuffing. Spread the stuffing to the outside edges, making a pocket to place your eggplant, and then set aside. Next, repeat this step with the eggplant and zucchini.    
You might also like: Get Into The Spirit With This Holiday Playlist
Get It Together
You've made it to the homestretch. Place the squash, eggplant, and zucchini inside one another, and then add toasted pecans and scallions. With three 18" pieces of kitchen twine, tie the two halves together tightly and then brush with maple syrup. Wrap the Vegducken in aluminum foil and place it on a baking sheet in the center of your pre-heated oven. Use two loaf pans to secure the squash in place and then bake for two hours. Once complete, remove and let rest for 20 minutes. Cut the Vegducken into one-inch slices and cover with maple syrup butter, mint lemon juice, salt, and parsley. Your Vegducken is ready to serve! Enjoy.  
Disclaimer: The stock image is being used for illustrative purposes only, and it is not a direct representation of the business, recipe, or activity listed. Any person depicted in the stock image is a model.